Guild Wars 2 Mount Up For Grothmar Valley With The Primal Spirit Jackal Skin
Time: 2019-09-20
Primal Spirit Jackal Skin
Enjoy the beauty of Grothmar Valley on the back of a truly majestic beast. From its crown of elegant horns to the magic flowers that bloom in its footsteps, it seems as though nature itself is breathing life into this otherworldly mount.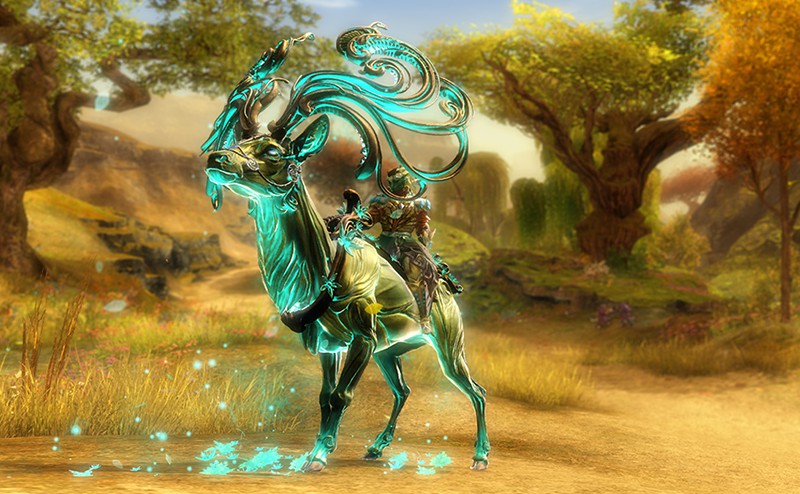 The Primal Spirit jackal skin can be purchased directly or found as a rare drop inside Black Lion Chests.
Bound by Blood Chest
Before you head off to the party, stock up on supplies with the Bound by Blood Chest! Inside each chest, you're guaranteed to find a Black Lion Material Bag: Dragonfall, a redeemable Black Lion Statuette, and two common items. You also have a chance to find something rarer in the fifth slot, including exclusive items and glyphs, and skins from the Beastslayer Weapon Collection and Abaddon Weapon Collection.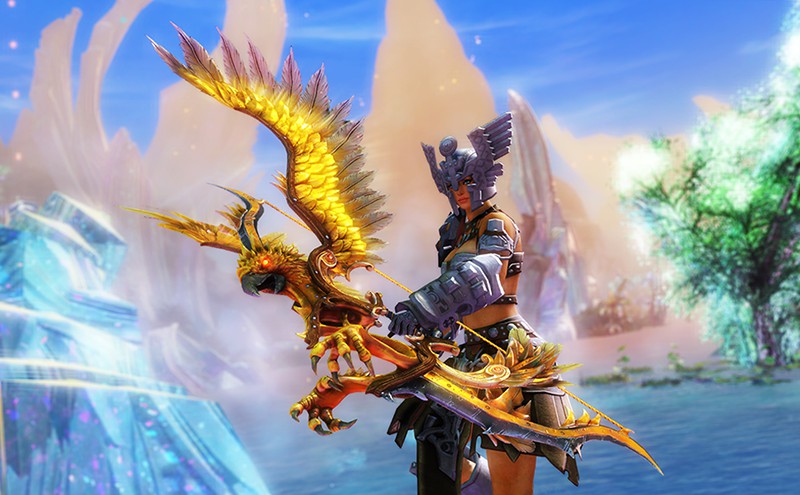 Guaranteed Item—Black Lion Material Bag: Dragonfall
The Black Lion Material Bag is guaranteed to contain a selection of three crafting materials—hand selected for quality by highly trained Black Lion Buyers or gathered by licensed Black Lion Hunters from across the world. In addition, you'll get a Season 4 map currency and a rare chance at one additional item, including lodestones.
Exclusive Item—Golden Talon Longbow
Does your current longbow look a little bit too plain for someone of your magnificence? Make a statement with the Golden Talon Longbow! This weapon is so hot you can see it glow.
Black Lion Miniature Claim Ticket Update
You can exchange your Black Lion Miniature Claim Tickets for minis from the Living World Season 1, Krytan Humans, Shiverpeaks, Ascalon, and Ocean/Deep Sea categories.
New Horizons Supply Drop Requisition—Final Week
There's one week left to grab this bundle of valuable items and get all four shipments delivered right away!
Shipment One
New Horizons Mount Select License
Your choice of one Exotic Breeds, Desert Racer, Distant Lands, or Istani Isles mount select license or a New Horizons Mount Adoption License
Endless Ocean Weapon Select Box
Two Knife Tail Gang Hunting Bonds
Shipment Two
Black Lion Outfit Voucher
Victorious Dye Kit
Five Black Lion Statuettes
Set of miniature baby mounts (Mini Green Raptor Hatchling, Mini Yellow Jackal Pup, Mini Red Griffon Hatchling, Mini Brown Springer Kit, Mini Blue Skimmer Pup, and Mini Gray Skyscale Hatchling)
Shipment Three
Black Lion Backpack and Glider Voucher
Two Guaranteed Wardrobe Unlocks
Two Black Lion Miniature Claim Tickets
Communal Boost Bonfire
Two Heroic Boosters
Shipment Four
Black Lion Claim Ticket
Five Black Lion Chest Keys
Golden Black Lion Chest Key
What's in Stock
We're refreshing our inventory of minis this week and bringing back some end-of-summer favorites!
Returning Today
How to Dance, Volume 1—40% Off
Returning This Week
Don't let Metal Legion hog the spotlight—pick up an instrument and jam! The Flute, Marriner's Horn, Musical Bass Guitar, Musical Frame Drum, Musical Harp, and Musical Lute are 35% off beginning September 20.
Thunderstrike Harvesting Tool
Earthshaker Mining Tool
Firestorm Logging Tool

Available Now in the Gem Store!

Log into Guild Wars 2 and press 'O' to access the Black Lion Trading Company for these great offers and more!
Guild Wars 2 Event
Guild Wars 2 News
Guild Wars 2 Update