Overwatch's Latest Event Gives Bastion A Lego-Themed Skin
Time: 2019-09-19
Tuesday, September 17th saw the official Overwatch Twitter account reveal a new Lego Brick Bastion skin as the highlight of the new Bastion's Brick Challenge event. Overwatch's cutest robot has a whole new Lego-themed look in the game's latest event which is set to run through September 30.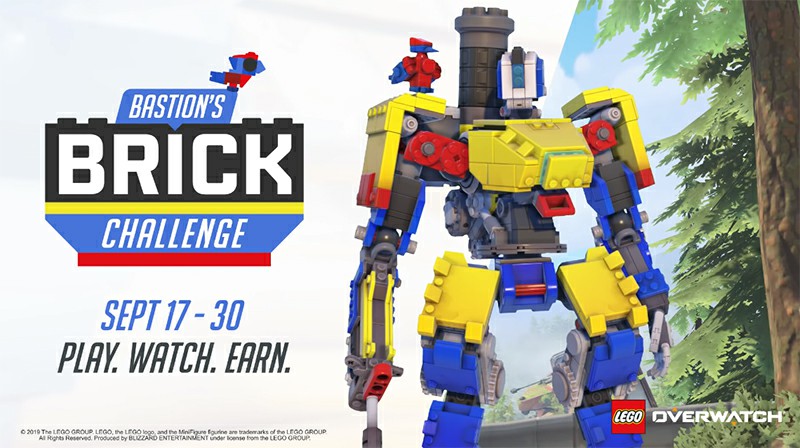 "Build your very own limited-time Brick Bastion skin by winning
Overwatch
® games through September 30! Plus, watch participating Overwatch streams on Twitch to unlock delightful brick-themed sprays and icons."
Blizzard announced the timed event on Monday along with a video. The new Legendary skin makes the robotic character look like he's built out of Lego bricks.
To win the skin and some other cosmetics, all you have to do is play during the LTE period. Winning three games will get you two new player icons, winning six games will earn you two sprays: Lego-themed Mercy and Pharah sprays, and winning nine games will get you the Brick Bastion skin.
The challenge will last from September 17 through September 30, and will feature 12 new cosmetic rewards that you can earn by winning games in Quick Play, Competitive Play, and Arcade. You can also unlock rewards by watching Twitch streamers.
Overwatch Bastion's Brick Challenge Event Rewards are listed below:
Win 3 Games - 2 Player Icons
Win 6 Games - 2 New Sprays
Win 9 Games - New epic skin: Brick Bastion skin
Watch 2 Hours - 1 New Spray
Watch 4 Hours - 2 New Player Icons
Watch 6 Hours - 2 New Player Icons, 2 New Sprays
In addition to playing, watching the event for certain time increments earns you sprays and icons. Instructions to watch are below, and check out the full details here.
Log in to your Twitch account and go to your Twitch connections page.
Click Connect next to Blizzard Battle.net and follow the instructions.
Watch participating streamers to earn sprays and icons.
Overwatch
is preparing to launch on a new platform, with a Nintendo Switch version coming on October 15.
Overwatch News
Overwatch Bastion's Brick Challenge
Overwatch Event
Lego Brick Bastion skin