Borderlands 3 Anniversary Celebration Conmtinues on October 15 with Show Me the Eridium!
Time: 2019-10-15
Borderlands' 10-year anniversary celebration continues with another week of in-game bonuses for Borderlands 3. Gearbox Software continues its celebration of Borderlands' 10-year anniversary this week with the release of the "Show Me the Eridium" event in Borderlands 3. It's designed for those of you that just can't get enough Eridium.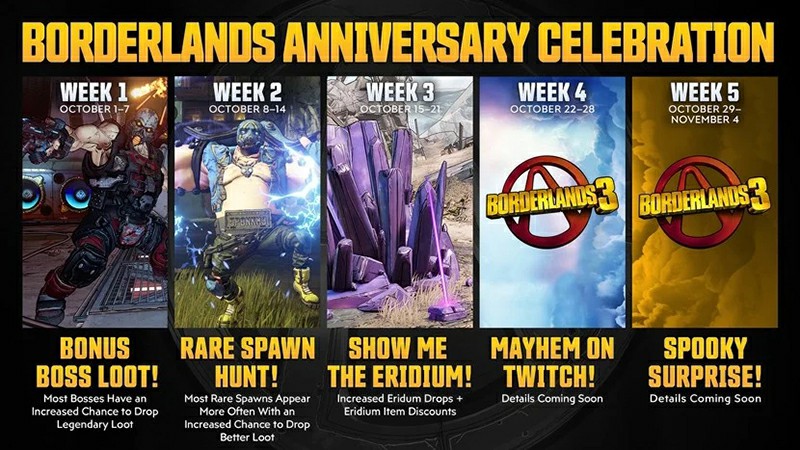 The Show Me the Eridium! event will run from October 15 to October 22, and you'll need to download a micropatch to get access to it. This will introduce additional Eridium drops across the board, including in Mayhem Mode and for standard enemy kills. You'll also find that Moxxi's Vault Line slot machine will cost less Eridium to play, and all the Eridium items at Crazy Earl's hideout in the Cargo Bay of Sanctuary III will be discounted – which is all rather awesome news.
"Please note that in order to smash apart Eridium deposits and collect the shards, you'll need the Eridium Resonator, an artifact you'll naturally obtain as you play through the story missions leading up to Eden-6," says Gearbox in a prepared statement.
Keep in mind that in order to break apart any Eridium deposits, you'll need the Eridium Resonator which is obtained in the main story. The event is set to begin by or before 3:00 p.m. Pacific Time on Tuesday, October 15. You'll receive a notification in-game as a heads up.
Future events are below. And in case you missed it, check out review of Borderlands 3 here.
Week 3 (October 15-22): Show Me the Eridium!
Week 4 (October 22-29): Mayhem on Twitch!
Week 5 (October 29 - November 4): Spooky Surprise!
For more information on all of the Borderlands Anniversary Celebration content, be sure to check out the official site.
Borderlands 3 PC
The Show Me the Eridium!
Borderlands 3 Event
Borderlands 3 News