Call of Duty: Modern Warfare beta's Multiplayer Modes
Time: 2019-09-16
According to a new rumor, Call of Duty: Modern Warfare on PS4, Xbox One, and PC has multiple unannounced multiplayer modes, some of which are brand-new for the series.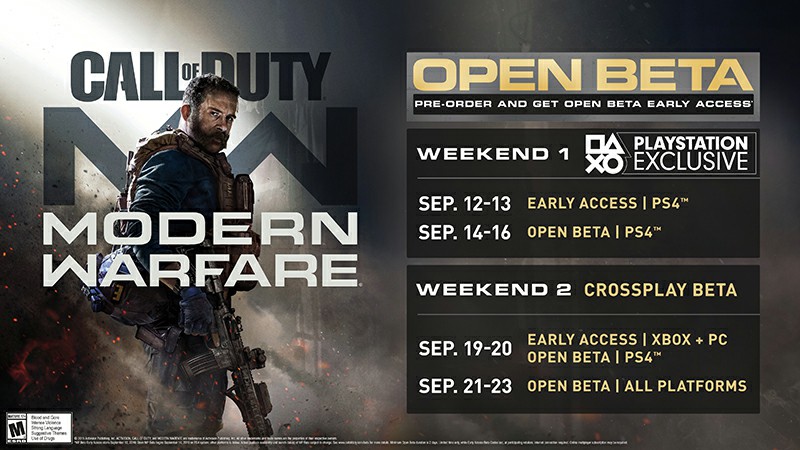 According to the online news, there's at least still four unannounced modes. One of these modes is dubbed Team Defender, in this mode, a team has to defend one teammate who's carrying a flag. Another mode is described as a twist on Demolition. And lastly, Clan Wars and Cranked are coming to the game, two modes from Call of Duty: Ghosts.
More Ground War modes are likely to appear in this week's tests, so let's focus on the main test content and time list for this week.
While this week's beta is on Xbox One and PC access the
Call of Duty: Modern Warfare
alongside PS4 players, and it will be a cross-platform beta. What we do know is that next will see even more content added to the beta including the large scale Ground War mode.
Below you can see the remaining beta dates.
September 19th – 20th Cross-Play (Early Access PC/Xbox One. Open Beta PS4)
September 21st – 23rd Cross Play (Open Beta PC/Xbox One/PS4)
Call of Duty: Modern Warfare
is going to be released on October 25th for PS4, Xbox One, and PC. The game will have both a single-player component alongside the multiplayer.
If you haven't played
Call of Duty: Modern Warfare
, it's not too late. A bunch of Warfare is waiting for us so buying the
Call of Duty 4: Modern Warfare Steam CD Key
to unlock the game is a great way out. Tip: the official price is a bit high, you can
buy Call of Duty Modern Warfare 3 CD Key
here. Same product, half price, try it.
Call of Duty 4: Modern Warfare
Call of Duty
Call of Duty: Modern Warfare
Call of Duty News
Call of Duty: Modern Warfare Beta