Apex Legends Voidwalker Event
Time: 2019-09-03
From September 3 to 17, Apex legends will host its next event called Voidwalker. Surrounding the mysterious past of Wraith, this themed event will introduce a lot of awesome content, including a new town takeover, a limited time model, challenges, and more. With all the details of the event listed below, let's get started:
What's in the Voidwalker Themed Event?
Wraith town takeover
Limited-time mode – Armed and Dangerous
Exclusive event challenges
Direct Purchase Shop
Double XP for Top 5 and Wins Weekend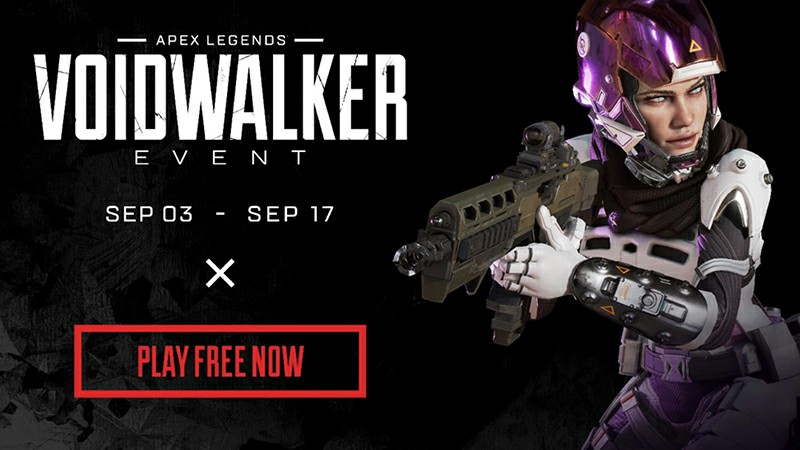 Wraith Town Takeover
Syndicate construction crews have unearthed part of a decayed Project: Wraith facility in Kings Canyon. Jump in to discover for yourself the mysterious remains of the research site, including a functional prototype portal that can be used to get an early jump on the base – or to escape and reinitiate skydive.
Limited-Time Mode: Armed and Dangerous
In the same spirit of Wraith's escape, Apex Legends is introducing a brand new LTM, Armed and Dangerous, where weapons are limited to snipers and shotguns while overall loot is much harder to come by.
Event Challenges with Free Loot
Complete a variety of challenges to earn exclusive skins and Wraith-themed content. All challenges and rewards will be limited to the two-week event.
Direct Purchase Shop
As a tie in to the short, Apex Legends is adding a set of themed cosmetics such as the Voidwalker Wraith Legendary, which includes a custom character select animation.
New to this event Apex Legends is introducing lower price point items; outside of the legendary skin and frame, all themed cosmetics are $5. These items are Event Limited, so they will be eligible to return six months after the event ends on September 17. During the Voidwalker themed event they will rotate through the in-game store on the following schedule:
In addition to these cosmetics, Apex Legends is adding six new legendary items to the core loot pool which can be crafted or obtained through packs. As a limited event promotion, each of these items will also receive a first look offer in the direct purchase store.
Double Top 5 and Wins XP Weekend
From 10:00 a.m. PT on September 6 to 10:00 a.m. PT on September 9, players will earn double XP for Top 5 finishes and wins. This bonus will affect both Account Level and Battle Pass progression.

If you need to win a Grand Slam during this event, buying a certain amount of Apex Legends Coins can help you upgrade faster. Of course, if you haven't started your Apex Legends game, don't worry, we have
Apex Legends CD Key
to buy.
How to buy Apex Legends CD Key and Apex Legends Coins?
Enter
https://www.cdkeysmall.com
and enter "
Apex Legends
" in the search box. The related products will be listed. You can choose the product you want and click on the link to go to the purchase page. Welcome to our membership, there is a discount waiting for you.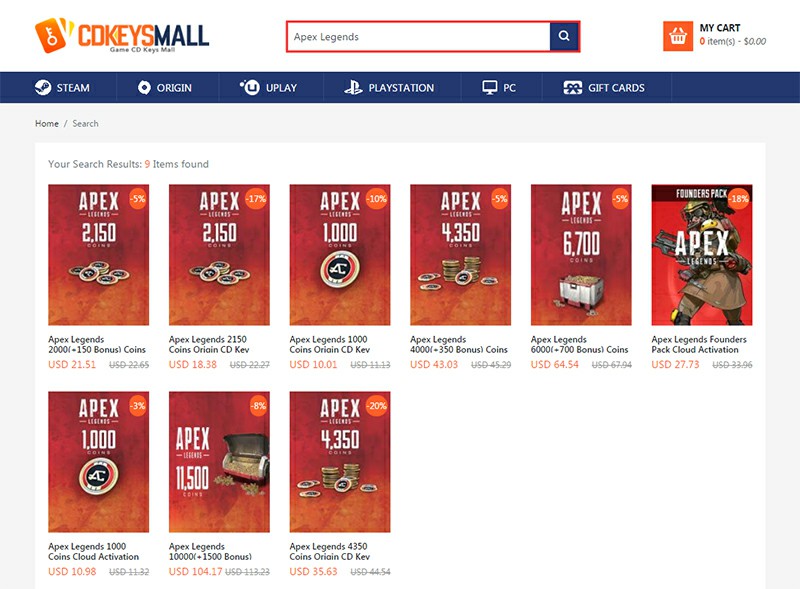 Apex Legends CD Key
Apex Legends Event
Apex Legends News
Apex Legends Voidwalker