The Outer Worlds, Stellaris, Minit, and More Coming Soon to Xbox Game Pass for PC in October
Time: 2019-10-10
Following last week's Dishonored 2 and Cities Skylines, PC Xbox Game Pass will release seven new titles in October. October's additions to the subscription service will include The Outer Worlds, Minit, Stellaris, Saints Row IV: Re-Elected, F1 2018, State of Mind, and Lonely Mountains Downhill. The most notable is "The Outer Worlds," a role-playing video game developed by Obsidian Entertainment, The gaming studio that Microsoft acquired last year. The game will go on sale on October 25 on Xbox game Pass PCS and consoles. Microsoft didn't announce any release dates for the six other titles joining Xbox Game Pass for PC later this month.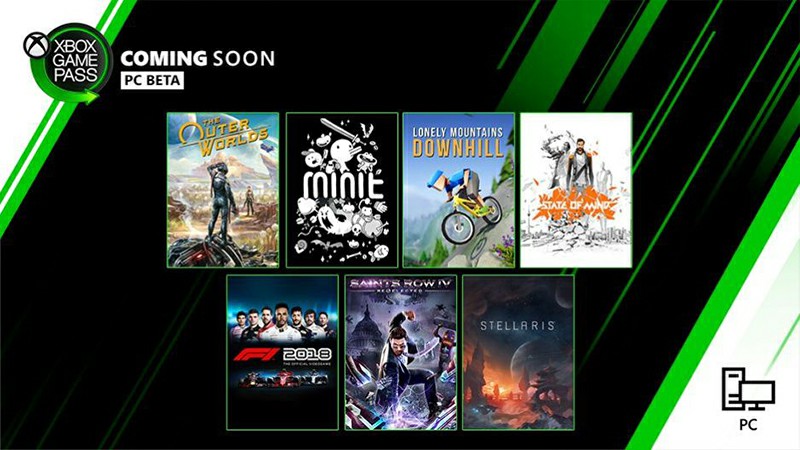 See the full list of games down below:
The Outer Worlds (October 25)
The Outer Worlds
is a new single-player first-person sci-fi RPG from Obsidian Entertainment and Private Division. Lost in transit while on a colonist ship bound for the furthest edge of the galaxy, you awake decades later only to find yourself in the midst of a deep conspiracy threatening to destroy the Halcyon colony. As you explore the furthest reaches of space and encounter various factions, all vying for power, the character you decide to become will determine how this player-driven story unfolds. In the corporate equation for the colony, you are the unplanned variable.
Stellaris
Journey through a spectacular and ever-changing universe from the creators of Cities: Skylines. Forge a galactic empire by sending out science ships to survey and explore, while construction ships build stations around newly discovered planets. Discover buried treasures and galactic wonders as you spin a direction for your society, creating limitations and evolutions for your explorers across enormous procedural galaxies.
Stellaris: Console Edition Leaving Xbox Game Pass for PC (Beta) in October (So go play them now!)
F1 2018
F1 2018 puts you in control of your destiny. Featuring all the official teams, drivers, and all 21 circuits of the thrilling 2018 season that sees the return of the French and German Grand Prix to the calendar; meaning that you can now race at Circuit Paul Ricard for the first time ever and Hockenheimring makes a return.
Lonely Mountains Downhill
Race, jump, slide, and try not to crash – all the way from the peak to the valley! Explore rocky mountain slopes with your bike, jump over sandy gorges or find your way through the foggy forests. Each mountain awaits you with new challenges to find your own way to the finish line.
Minit
A peculiar little adventure played 60 seconds at a time. Journey outside the comfort of your home to help unusual folk, uncover countless secrets, and overcome dangerous foes, all in hopes of lifting a rather unfortunate curse that ends each day after just one minute.
Minit is currently free to download from the Epic Games store until Thursday October 10, when it will be replaced by Surviving Mars.
Saints Row IV: Re-Elected
A special bundle that includes the award-winning blockbuster Saints Row IV and all DLC. After saving the world from a terrorist attack the leader of the 3rd Street Saints is elected to become President of the United States. Things go reasonably well until an alien warlord named Zinyak attacks the White House and abducts his entire cabinet. Now stuck inside a reality bending simulation, the President and the Saints fight to save themselves, Earth, and the entire galaxy.
State of Mind
Experience an alarmingly realistic vision of the near future. Dive into a multi-layered sci-fi thriller, where dystopian reality and digital utopia are intertwined to unravel a global conspiracy in a society of ubiquitous digitalism, surveillance, and transhumanism. Explore a world with a rich and unique visual style, combining realistic environments with low-poly characters. Take on the role of journalist Richard Nolan, as well as five additional playable characters, and use deduction skills and research to reconstruct Richard's past.
Sinner: Sacrifice for Redemption
Sinner: Sacrifice for Redemption is a boss battler action-RPG. Face eight abhorrent bosses, the first seven each based on one of the deadly sins. Before each epic clash, you must sacrifice a stat and level down to enter combat. Each fight will be tougher than the last as you wage war against sin itself.
Sinner: Sacrifice for Redemption being removed before November.
PC Games
The Outer Worlds
Minit
Stellaris
Saints Row IV: Re-Elected
F1 2018
State of Mind
Lonely Mountains Downhill